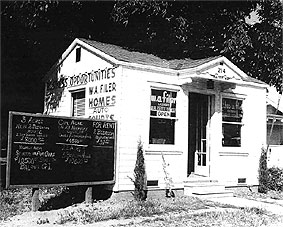 Dating back 57 years ago, Walter A. Filer founded our company in a small bungalow near the village of Arroyo Grande. World War II was over, and he had recently moved to the Central Coast from the Central Valley.
During that time, servicemen were coming back from the war, getting married, starting families and buying homes of their own. Many of the Central Coast's streets were still unpaved. Arroyo Grande catered to the surrounding farms and ranches. Grover Beach and Oceano were just a scattering of bungalows, as was Pismo and Shell Beach. Santa Maria was a small town only four square miles in size. Bakersfield was a sleepy oil and farming community at the foot of the Central Valley.
But times were changing. Streets were paved, towns incorporated. The 101 Freeway was put through the Central Coast in the 1950's, seemingly bypassing the quaint old village of Arroyo Grande forever.
By the 1960's, Filer had become a pillar of the community. During that time, he was instrumental in founding what is today the largest Central Coast bank, Mid-State Bank, and the area's largest real estate office, CENTURY 21 Hometown Realty.
In those days our company was called W. A. Filer Real Estate, and as the Five Cities continued to grow, the company grew with the area. By the 1970's, Central Coast homes were selling in the $20,000 to $30,000 range and Filer's grandson, Rob Filer, took an active role in the real estate business. By 1977, the company had become the largest in South County when the younger Filer joined a new franchise organization that turned the industry on its head. It was simply called Century 21 at the time, now the company is called CENTURY 21 Real Estate LLC! Eventually the company was incorporated and company members never looked back. Today we are called CENTURY 21 Hometown Realty, and although our name has changed, we still revere Walter and Rob Filer for the start that they gave the company.
The new name reflects the companies' pride in roots that run deep – not just in San Luis Obispo County, but now into Bakersfield and the Santa Maria Valley.
Thank you, for letting us be a part of your hometown!